Sign up now for Summer Camp 2017!
Fill out the dance camp form for more information.
Camp Fees:
General Fee: $299 per week (2-week camp/sessions)
Non-refundable deposit required: $150.00
Registration: Register at New Hope Academy's Main Office or online:
Dance Camp 2017 
New Hope Performing Arts Center Summer Dance Camp & Dance Camp Intensive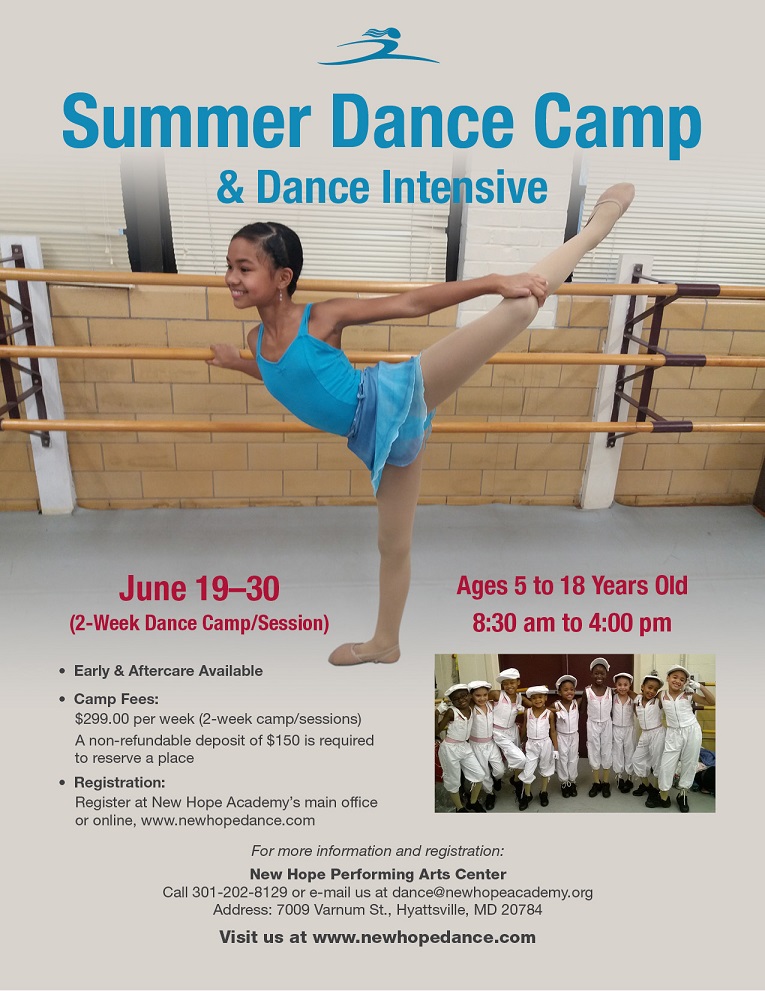 June 19 – 30 (2 week dance camp session)
8:30 am to 4:00pm | (early & aftercare available)
Ages 5-18 years old

Professional Teachers and Guest Artist
Levels : Beginners to Advanced
Dance Technique every day (Ballet, Jazz, Contemporary, Hip-Hop and more)
Demonstration for parents on the last day of camp
For More Information: Call or e-mail us:
Email: newhopedance@gmail.com
Phone: 301-202-8129
Address:
New Hope Performing Arts Center
7009 Varnum street, Suite B100
Hyattsville, MD 20784
---
Summer Camp 2016  was a great success. It was a chance for dancers to improve their skills tremendously and summer campers ended on a high note with a demonstration for friends and family on July 1st that highlighted their dance skills.
Here is a video of the demonstration given after the dance camp: