New Hope Youth Dance Company swept the awards in this weekend competition: The group dances that the Dance Company competed with, won "overall highest scores" for 1st, 2nd,3rd, 4th, 5th, & 7th place.
Unique achieved an "Elite Gold" with her contemporary "solo". Bedelina & Kayla's "solos" got "Platinum" awards which is the very highest that you can get.
The team spirit was outstanding, with the Teens (older sisters) supporting the Mini team (younger sisters) and the younger ones (Minis) cheering enthusiastically for the Teens.  Parents were supporting with food and very loud cheers.It was a memorable three day competition weekend!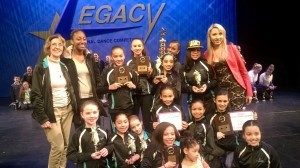 First Place Hip-Hop Performance